Knives out UHD 4K blu-ray Quick review
Det er udgaven fra England som er brugt til anmeldelsen af lyd og billede.

Anmeldelse skrevet af Biojensen
Spilletid: 2 timer og 10 minutter
Lyd: Dolby Atmos UHD + blu-ray
Undertekster: Engelske
Aspect Ration: 4K - 1.85:1

UHD blu-ray udgivelsesdato: 30. marts 2020
Distributør: Lionsgate Home Entertainment
Antal disk: 2 = UHD blu-ray og Blu-ray

Genre: krimi, drama, komedie
Biograf premiere: 5. december 2019

Instruktør: Rian Johnson
Skuespiller:
Daniel Craig som Benoit Blanc
Chris Evans som Ransom Drysdale
Ana de Armas som Marta Cabrera
Jamie Lee Curtis som Linda Drysdale
Michael Shannon som Walt Thrombey
Don Johnson som Richard Drysdale
Toni Collette som Joni Thrombey
LaKeith Stanfield som Lieutenant Elliott
Christopher Plummer som Harlan Thrombey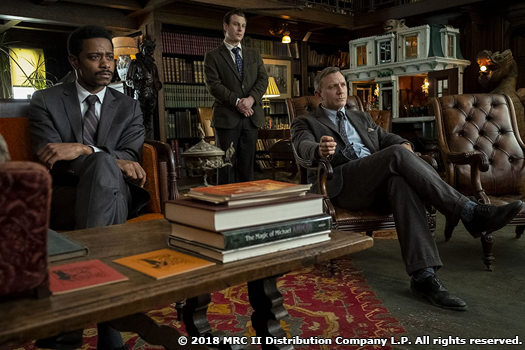 Knives Out opdaterer på humoristisk og underholdende vis Agatha Christies mordhistorier, med en veloplagt Daniel Craig som den Hercule Poirot-inspirerede detektiv, andre skuespiller som er med i filmen kan nævnes Christopher Plummer, Jamie Lee Curtis, Chris Evens, Don Johnson, Frank Oz og Ana de Armas.
Instruktøren bag filmen er Rian Johnson, som i 2017 stod bag den ottende film i Skywalker-sagaen Star Wars: The Last Jedi.
Knives out kan klart anbefales. Hvis man vil købe filmen på UHD blu-ray må der kigges mod England, da filmen kun udkommer på blu-ray og dvd i Danmark :-(
Startede først med at se filmen på JVC X500 projektor som ikke understøtter HDR eller Dolby Vision, har derefter udvalgt nogle scener som er set på et LG 4K TV med Dolby Vision.

Billedet på 4K blu-ray udgaven af Knives out har et godt billede med masser af detajler og god dybde, flot farver men sort niveau kunne dog godt være bedre.Billedet er opscaleret til 4K.

Billedet på Dolby Vision udgaven er flot, med en god dybdeskarpheden og sort niveauet er klart bedre på Dolby Vision udgaven, farverne virker naturlige.
*
Filmen er set i 4K på JVC projektoren via en
HDCP snyde boks
da den ikke understøtter HDCP 2.2
Knives out kommer med et Dolby Atmos lydspor, men Atmos højttalerne bliver ikke brugt meget, da der mest er dialog i filmen, det er kun få gange i filmen, at der virkelig gøres brug af alle højttaler i mit 7.1.4 setup. Dog skal kan jeg ikke klage over dialogen som er klar og tydelig igennem hele filmen, min Subwooferen var tændt men den gjore ikke meget væsen af sig.

Knives out kommer med masser af ekstra til den kræsende filmsamler.
- Audio Commentary
With Writer / Director Rian Johnson, Director of Photography Steve Yedlin and Actor Noah Segan
In Theater Commentary With Rian Johnson
- Deleted Scenes with Optional Commentary By Rian Johnson (HD, 4:57)
- Rian Johnson: Planning a Perfect Murder (HD, 6:17)
- Making a Murder 1 time 54 minutter
Premeditation: Inspirations & Origin (HD, 11:55)
Gathering the Suspects: The Cast (HD, 19:29)
Dressed to Kill: Costume Design (HD, 8:19)
The Scene of the Crime: Production & Design (HD, 13:05)
Visual Clues: Cinematography (HD, 11:51)
Putting the Clues Together: Editing (HD, 12:35)
Music to Kill For: Music & Sound (HD, 24:40)
Denouement: Whodunnit? (HD, 11:32)
- Director and Cast Q&A (HD, 42:09)

- Marketing Gallery

Teaser Trailer (HD, 2:12)
Theatrical Trailer (HD, 2:35)
Final Trailer (HD, 1:08)
Ode To The Murder Mystery (HD, 1:43)
Meet The Thrombeys Viral Ads
Thrombey Real Estate (HD, :34)
Blood Like Wine Publishing (HD, :56)
Flam (HD, :34)
Anmeldelse skrevet april 2020.
Tilbage til UHD Blu-ray anmeldelser