Glee The 3D concert movie i 3D & 2D.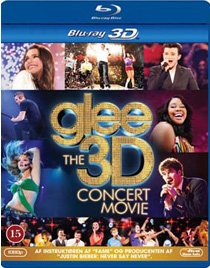 Zone A-B (DK udgave)
Spilletid: 84 minutter
Lyd: DTS-HD Master Audio 5,1: Engelsk
Dolby Digital 5,1: Engelsk + 3 andre sporg.
Undertekster: Danske, Svensk, Norsk, Finsk, Engelsk.
Aspect Ration: 1.78:1 High Definition 1080/24p

Blu-ray udgivelsesdato: 14. februar 2012
Distributør: 20th Century Fox (SF film)
Antal disk: 1 = 3D og 2D version.
Genre: Dokumentar, Musik.

Crew:
Instruktør: Kevin Tancharoen
Manuskript: Ian Brennan, Brad Falchuk & Ryan Murphy
Producere: Ian Brennan executive producer
Dante Di Loreto producer
Brad Falchuk executive producer
Ryan Murphy producer
David Nicksay executive producer
Russell Sheaffer field producer (documentary segments)
Deena Sheldon line producer
Zachary Woodlee co-producer (as Zach Woodlee)
Jeff Zachary 3D producer
Fotograf: Glen MacPherson
Klip: Myron I. Kerstein, Jane Moran, Tatiana S. Riegel & Sonja Schenk.
Skuespiller:
Dianna Agron som Quinn
Chris Colfer som Kurt
Darren Criss som Blaine
Kevin McHale som Artie
Lea Michele som Rachel
Cory Monteith som Finn
Heather Morris som Brittany
Amber Riley som Mercedes
Naya Rivera som Santana
Mark Salling som Puck
Jenna Ushkowitz som Tina
Harry Shum Jr. som Mike
Chord Overstreet som Sam
Beskrivelse:

En koncert dokumentarfilm optaget under Glee Live In Concert tour sommeren 2011. Filmen er en blandning imellem koncert og snak med skuespillerne fra Glee og forskellige Glee fans der fortæller hvordan Glee serien har påvirket dem.



Man skal nok være Glee fan for at synes at Glee The 3D concert movie er Fantastisk. Dem som ikke har set Glee serien vil nok tror at det bare er nogle tidligere X-factor deltager som synger forskellige sange fra bla. Britney Spears, katy Perry, Madonna og Tine Turner.

Liste over nummer der bliver spillet:
Don't Stop Believin'
SING
Empire State of Mind
I'm a Slave 4 U
Fat Bottomed Girls
Don't Rain on My Parade
P.Y.T. (Pretty Young Thing)
Ain't No Way
Jessie's Girl
Valerie
Firework
Teenage Dream
Silly Love Songs
Raise Your Glass
Happy Days Are Here Again / Get Happy
Safety Dance
Lucky
River Deep, Mountain High
Forget You
I Want to Hold Your Hand
Born This Way
Loser Like Me
Don't Stop Believin' Reprise
Somebody to Love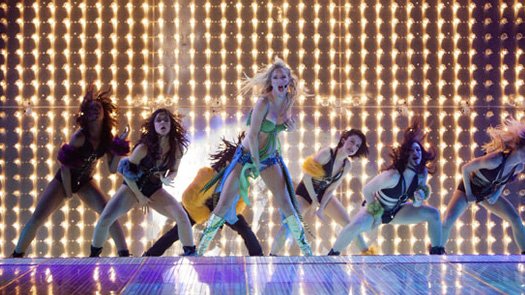 Glee The 3D concert movie kommer med DTS-HD Master Audio 5,1 mix. Desværre skuffer lydsporet rigtig meget, man burde kunne forvente langt bedre lyd fra en koncert film. Lyden er Meget flad på flere nummer og man får slet ikke fornemmelsen af at være til koncerten, dog er der enkel nummer som lyder rigtig godt. Selve niveuaet på LFE kanalen(subwoofer) passer ikke til resten af lydsporet.




Glee The 3D concert movie blu-ray udgaven kommer med et flot billede i både 2D & 3D. Billedet på 2D versioen har en del støj i billedet i nogle af nummerne dog ikke noget som ødelægger selve oplevelsen. 3D udgaven er at fortrække i forhold til 2D udgaven.





20th Century Fox viser på Glee The 3D concert movie hvor godt 3D kan være på blu-ray. 3D billedet har en helt fantastisk dybde og flot sort niveau og farver. Dog kan billedet til tider næsten virke for skarpt i 3D udgaven. Man ser tydeligt alle detaljerne i ansigterne på skuespillerne.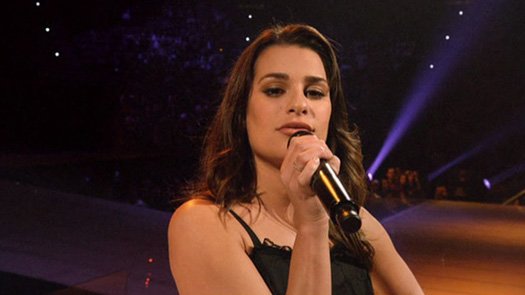 - Unseen Performances (1080p, 2D, 5:11): Dog Days Are Over and Friday.
- Extended Performances (1080p, 2D, 5:31): Længere versioner af Aint No Way
and Happy Days Are Here Again.
- On Stage with the Cast (1080p, 2D, 5:46)
- Backstage with the Cast (1080p, 2D, 1:34)


Karakterscalaen går fra en ½ blu-ray disc til 5 blu-ray disc
Tak til 20th Century Fox (SF film)
Anmeldelse skrevet den 12 februar 2012. Biojensen.